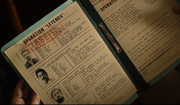 Operation Leyenda was the codename of a classified special operation of the Drug Enforcement Administration, ordered by Acting Administrator John Lawn in response to the abduction and murder of DEA Special Agent Enrique Camarena Salazar by the Guadalajara cartel in accordance with the DFS.
A special team of special agents led by Walt Breslin covertly infiltrated Mexico with the aim of arresting several Mexican drug lords and police officers, including Miguel Ángel Félix Gallardo, Juan José Esparragoza Moreno and Sergio Espino Verdin.
Community content is available under
CC-BY-SA
unless otherwise noted.