"What's a warrant?" ― Calderoni to Kuykendall, c. 1986
Guilleromo González Calderoni was a subcomandante of the Mexican Federal Judicial Police. Considered as Mexico's big game hunter, Calderoni spearheaded the Mexican operation to bring down the Guadalajara cartel. However, despite winning the trust of the Americans; he faced trouble from his superiors who were indirectly involved with the cartel.
While unsuccessful at first, Calderoni led the operation which led to the arrest of Guadalajara cartel drug lord Rafael Caro Quintero in Costa Rica in April, 1985; two months after Enrique Camarena Salazar's murder. He also led an operation targeting cartel kingpin Miguel Ángel Félix Gallardo. However,Calderoni was forced to let Félix Gallardo go despite holding him at gunpoint, as the drug lord threatened releasing audio tapes implicating Calderoni's superiors in the murder of Camarena, putting Calderoni and his family in danger. Calderoni accepted a bribe of $2 million and let Félix Gallardo free, and as part of the deal, he began reluctantly working for Félix Gallardo.
He was shunned by the DEA for letting Félix Gallardo get away, but the DEA cautiously resumed co-operation in 1986, after Félix Gallardo berated him for his inaction regarding the kidnapping of Delgado and Sergio Espino Verdin. Information provided by Calderoni led the DEA to discover Joaquín Guzmán Loera's tunnel from Mexico to the United States. Calderoni led the joint FBI-MFJP air raid which killed drug lord Pablo Acosta; despite efforts by Walt Breslin to take the drug lord into American territory.
In 1988, without informing him, the DEA attempted to raid one of the cartel's airfields, without knowing that Amado Carrillo Fuentes set up a trap. The resulting shoot-out resulted in the death of 4 men employed by the DEA, one of them being executed by Calderoni to maintain his cover within the cartel.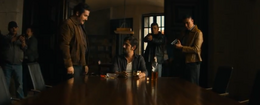 On April 8, 1989; Calderoni arrested Félix Gallardo after the Guadalajara cartel broke up. Calderoni and his men burst into one of the drug lord's safehouses. Félix offered $5 million to free him, but Calderoni refused as Félix was betrayed by his allies in the government. Calderoni brought in Walt Breslin, the leader of the DEA's Operation Leyenda to Mexico from Los Angeles to allow him to personally witness Félix's arrest, and wanted him to look over their differences and work as friends, but Breslin refused to consider Calderoni a friend.
Community content is available under
CC-BY-SA
unless otherwise noted.